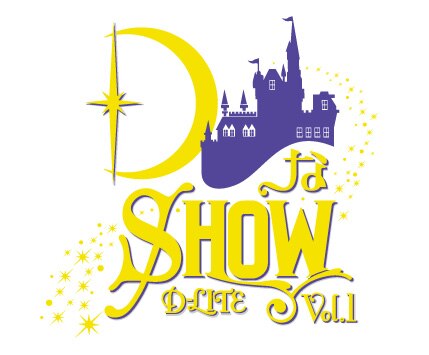 CD sales booth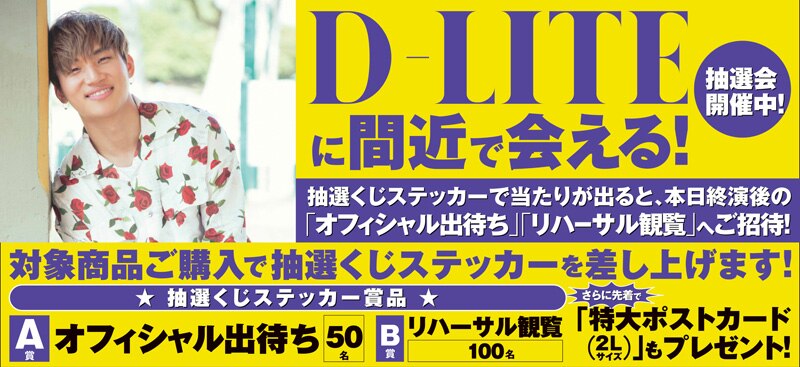 First of all, check here when you arrive at the venue!
Click here for a gorgeous campaign where you can win "Official Waiting" and "Rehearsal Viewing"!
Postcards will be given on a first-come, first-served basis!
Goods sales booth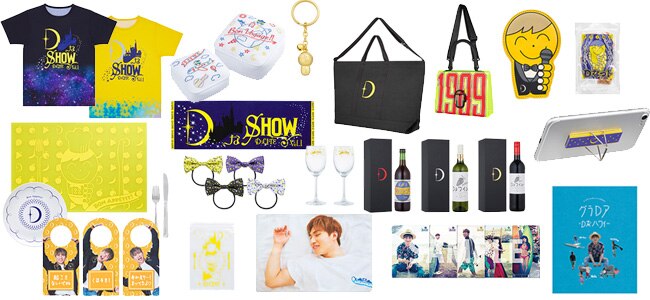 For every 6,000 yen (tax included) purchased at the tour venue goods section, you will receive one "D SHOW sticker" (up to three) with a different design for each venue!
On the EC site, you will receive a "D na SHOW sticker (EC Ver.)" As a gift ♪
There is also a "D Naposuto" project where you can send a message to D-LITE
Fan club

Fan club enrollment campaign will be held from the leaflets distributed at the venue!
Each booth opening time
* Please note that the sales start time is subject to change without notice.
* Because it will be very crowded before and after the performance, please come at the time of pre-sale.
* Pre-sale varies depending on each booth.
After the pre-sale ends, it will be sold in the hall.
Pre-sale from the end of the 1st copy to the opening time of the 2nd copy will be decided depending on the situation on the day.
| Schedule | Venue | CD / DVD | Goods |
| --- | --- | --- | --- |
| 8/11 (Friday) | MAIHAMA Amphitheater | 12:00 | 13:00 |
| 8/12 (Sat) | MAIHAMA Amphitheater | 10:00 | 11:00 |
| 8/16 (Wednesday) | FUKUOKA SUNPALACE Hotel & Hall | 14:00 | 15:00 |
| 8/17 (Thursday) | FUKUOKA SUNPALACE Hotel & Hall | 11:00 | 11:00 |
| 8/25 (Friday) | ORIX THEATER | 10:30 | 10:30 |
| 8/30 (Wednesday) | Sendai Sunplaza | 14:00 | 15:30 |
| 9/6 (Wednesday) | Art Theater Large Hall | 14:00 | 15:30 |
| 9/7 (Thursday) | Art Theater Large Hall | 11:00 | 11:00 |
| 9/9 (Sat.) | Saitama Culture Center Large Hall | 10:30 | 10:30 |
| 9/17 (Sun) | Nitori Bunka Hall | 12:30 | 14:00 |
| 9/18 (Monday) | Nitori Bunka Hall | 12:00 | 12:00 |
| 9/22 (Friday) | Hiroshima Bunka Gakuen HBG Hall | 14:00 | 15:30 |
| 9/23 (Sat) | iichiko Calture Center Gran Theater | 12:30 | 14:00 |
| 9/25 (Monday) | Kagoshima Citizens' Culture Hall 1st Hall | 14:00 | 15:30 |
| 9/27 (Wed) | NAGASAKI BRICK HALL | 14:00 | 15:30 |
| 9/30 (Sat) | Biwako Hall Center for the Performing Arts, Shiga Large Hall | 10:30 | 10:30 |
| 10/1 (Sun) | Kurashiki City Auditorium | 12:30 | 14:00 |
| 10/3 (Tue) | KOBE KOKUSAI HALL | 14:00 | 15:30 |
| 10/6 (Friday) | ORIX THEATER | 11:00 | 11:00 |
| 10/8 (Sun) | ORIX THEATER | 10:30 | 11:30 |
| 10/9 (Monday) | ORIX THEATER | 10:30 | 11:30 |
| 10/13 (Friday) | MAIHAMA Amphitheater | 14:00 | 15:30 |
| 10/14 (Sat) | MAIHAMA Amphitheater | 11:30 | 11:30 |
| 10/17 (Tue) | Niigata Prefectural Civic Center | 14:00 | 15:30 |
| 10/19 (Thursday) | Hondanomori Hall Hondanomori Hall | 14:30 | 15:30 |
| 10/22 (Sun) | ORIX THEATER | 12:30 | 14:00 |
| 10/25 (Wed) | SUNPLAZA | 11:00 | 11:00 |
| 10/27 (Friday) | Pacifico Yokohama National Convention Hall | 14:00 | 15:30 |
| 10/31 (Tue) | KOBE KOKUSAI HALL | 11:00 | 11:00 |