Encore!! 3D Tour [D-LITE DLive D'slove] Goods
Sorry I made you wait! Encore!! 3D Tour [D-LITE DLive D'slove] goods have been completed!!
This time, "ICE! NOSE, LIPS" that takes the shape of D-LITE 's nose and mouth, "Tosan's grip type", "Dakimaku-LITE" of life-sized body pillow using photograph taken down,
Unique goods such as "Blanket-san" with a large print of D-LITE with both hands open are available!
Mail order of tour goods is available at YGEX OFFICIAL SHOP, mu-mo SHOP, VIP JAPAN SHOP
February 2 (Monday) 16:00
Please do not miss the purchase! !! !!  
We will release the secret stories and limited photos hidden in the item on YGEX official Twitter, so please look forward to it!
YGEX Official Twitter Account
https://twitter.com/ YGEX Staff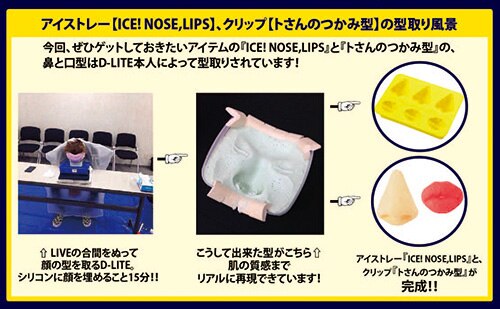 ■ We will also sell existing goods at the venue.
< List of sales items for existing products >
* All will be BIGBANG goods.
Stick light * Venue limited price
¥1,800
BIG towel * Venue limited price

※ Fan club member limited goods

¥4,100
Rain poncho * Venue limited price

*

Fan Club Member Only Goods

¥4,100
Stick light ballpoint pen
¥1,500
Sports towel
¥2,800
Mountain shell (M) (L)
¥15,000
Duffel bag
¥3,000
Earmuffs
¥2,500
Trooper cap
¥5,500
Dakimaku-LITETo the customer who purchased at the venue
Dakimaku- LITE is a very large product with a total length of 190 cm.
Entrance after opening the compression bag will hinder the performance,
Please refrain from opening before the performance.
I would like cooperation of opening after returning home.
■Venue-only measures
Exclusive venue bonus! For customers who purchase "Dakimaku-LITE" (pillow) and "blanket" (blanket) at the same time
Get a "D-kun special blanket cover" on a first come first served basis!

・ At the venue, customers who purchased the product at the time of one transaction are eligible. CD / DVD and FC subscriptions are not eligible.
・ It will end when the number of distributions for each performance has been exceeded. In any case, the receipt cannot be added.
・ You cannot carry over your rights.  
■Goods pre-sale start time
January 31 (Sat) Yoyogi Daiichi Gymnasium Pre-sale: 13:30
February 1 (Sun) Yoyogi Daiichi Gymnasium Pre-sale: 11:30
February 10 (Tue) OSAKA-JO HALL pre-sale: 16:00
February 11 (holiday, Wednesday) OSAKA-JO HALL pre-sale: 11:30  
【Notes】
* During the opening and after the show, it is expected that the sales floor will be crowded. Please use the pre-sale.
* Advance sales start time may change depending on congestion on the day. Please note.
* When you purchase a product, please check the product and change on the spot.
In particular, always check your fishing before leaving the store. We will not be able to provide proof if you leave the sales floor. Please take your receipt with you.
* Membership authentication is required when purchasing fan club member-only goods.
Please note. In addition, customers who have joined the fan club on that day will be certified as a member with the receipt of the fan club membership.
* Payment by credit card is also available.
■Mail order
TwoFrom 16:00 on Monday, 2nd, mail order will be started at the following site